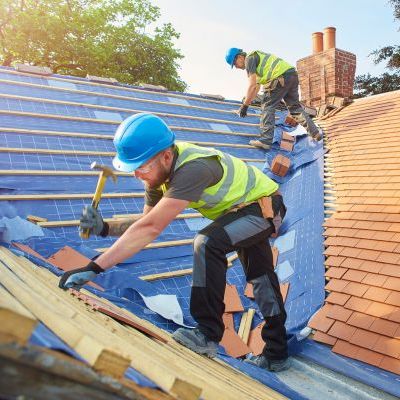 Phoenix Roofing Contractors
Phoenix's Premier Roofing Contractors
Welcome to Phoenix's premier directory for both residential and commercial roofing contractors. Our comprehensive business directory exclusively features roofing contractors and roofing companies that are bonded, licensed, and insured, ensuring…
More
Phoenix's Premier Roofing Contractors
Welcome to Phoenix's premier directory for both residential and commercial roofing contractors. Our comprehensive business directory exclusively features roofing contractors and roofing companies that are bonded, licensed, and insured, ensuring top-notch quality and reliability. Each contractor has an Arizona ROC# that is specified in their listing to provide an additional layer of assurance.
With years of experience, these local roofers have honed their expertise in different types of roofing projects, whether it's installing a new roof, dealing with roof replacement, or managing roofing repair tasks. Their adept understanding of local building codes and commitment to quality makes them your go-to resource for all your roofing needs.
Our Roofing Expertise and Specialties
Our listed roofing contractors have expertise in a range of roofing jobs, including the installation of asphalt shingle roofs and metal roofs. They are well-versed with various roofing materials, ensuring they can cater to the diverse requirements of Phoenix residents and businesses. Whether it's a small roof repair job or a complete roof removal, these professionals handle every task with precision.
From addressing minor issues like missing shingles and small leaks to dealing with major concerns like structural damage and old roof removal, these professionals ensure your roof is in the best possible shape. They also understand the importance of speed and efficiency in emergency roofing situations, providing quick and effective solutions to keep your home or business safe.
The Importance of Quality Roofing in Phoenix
The harsh weather conditions in Phoenix, from the burning summer heat to occasional inclement weather, make the roof one of the most important parts of any building. It protects your home or business from water damage, wind, and even potential mold issues. That's why the quality of the roofing materials and installation process are so important. Our directory lists only those roofing companies that prioritize quality and offer long-lasting solutions, be it for a small repair job or a large-scale roofing project.
Our Commitment to Safety and Compliance
Safety and compliance with local building codes are at the forefront of every roofing project. Our directory only includes roofing contractors who are committed to safety, have worker's compensation, and adhere strictly to local regulations. This commitment helps prevent potential structural issues and ensures that your project will meet or exceed local building code standards.
Comprehensive Guide to Our Roofing Materials and Options
Our listed roofing contractors offer a range of roofing materials and options, from traditional asphalt shingles to durable metal roofing. They can provide you with an informed choice about the best material for your roofing project considering factors like roof size, cost, maintenance needs, and local climate. By hiring one of our professionals, you ensure you receive expert advice tailored to your specific needs and preferences.
The Roofing Process: What to Expect
Beginning with an initial inspection and written estimate, our contractors ensure transparency at every step of the roofing process. They will guide you through roof installation or replacement, discussing everything from roofing costs to potential challenges such as old roof removal or unexpected structural damage. In the event of unforeseen issues or inclement weather delays, these professionals will communicate promptly and adjust timelines accordingly.
Environmentally Conscious Roofing Solutions in Phoenix
As part of our commitment to a greener future, our listed roofing contractors are at the forefront of offering environmentally friendly roofing solutions. They understand the impact of roofing materials and methods on the environment and strive to offer solutions that minimize this impact. From installing energy-efficient metal roofs to recycling old roofing materials, our professionals practice sustainable roofing without compromising on quality or durability.
Our Portfolio: Roofing Projects Completed in Phoenix
In our directory, you will find roofing contractors with an impressive portfolio of successful roofing projects in the Phoenix area. They have installed, repaired, and replaced roofs for various residential and commercial properties, always achieving top-notch results. Their rich portfolio is a testament to their expertise and commitment to delivering high-quality roofing services.
How We Handle Roof Repairs and Maintenance
When it comes to roof repairs and maintenance, our contractors offer comprehensive services. Whether it's replacing missing shingles, handling water damage, or dealing with structural damage, these professionals have you covered. They carry out regular inspections to identify potential issues and perform timely maintenance to prolong the life of your roof. In the face of emergency roofing needs, they respond swiftly to ensure minimal disruption.
Understanding Our Roofing Warranties and Guarantees
Quality and customer satisfaction are fundamental values for the roofing contractors in our directory. They back their services with robust warranties and guarantees, giving you peace of mind about your investment. Each contractor offers different warranties covering workmanship, materials, and other aspects of the roofing job. Be sure to inquire about these details when you hire a roofer for your project.
Frequently Asked Questions About Our Roofing Services
Our directory aims to answer common queries related to roofing services in Phoenix, such as project timeline, cost, insurance, and warranties. The listed contractors are ready to answer your questions and ensure you understand the details of the roofing project. They maintain transparency about the cost, materials, and process, helping you make an informed decision about your roofing needs.
Customer Testimonials and Success Stories
We take pride in the positive feedback our contractors have received from satisfied customers. These testimonials reflect the high-quality work and professional conduct that is synonymous with our listed roofing contractors. We encourage you to read reviews and success stories to learn more about the experiences of previous customers.
Financing Options for Your Roofing Project
A roofing project can be a significant investment. Hence, our listed contractors provide various financing options to make it more manageable. From flexible payment plans to partnerships with financial institutions, they help you afford the roofing work you need. Remember to ask about financing options when planning your roofing project.
Residential and Commercial Roofing Services
The roofing companies in our directory offer services that cater to both residential and commercial roofing needs. Whether you are a homeowner looking to repair a leaky roof or a business in need of a complete roof replacement, our contractors are equipped to handle any job. Their wide range of services includes roof repair, roof installation, and roof replacements, as well as emergency roofing services for unexpected situations.
Your search for top-notch roofing contractors in Phoenix ends here. Browse through our directory, read reviews, and find trusted, local roofing contractors for your project. Take the first step towards ensuring the durability and longevity of your roof today!
Start Your Phoenix Roofing Project Today
Whether you're a homeowner looking to replace an old roof or a business owner in need of emergency roof repairs, our directory is your one-stop solution. Here, you can find local, licensed, bonded, and insured roofing contractors ready to provide top-notch services. Browse through our directory today to find the perfect contractor for your roofing project in Phoenix, Arizona.
Less